We enable our clients to make the right choice for custom versus industry standard solutions for their end to end mobility needs by leveraging our catalysers and strategic partnerships with leaders in enterprise mobility ecosystem.
We have highly skilled team having rich experience in mobile app development, to address native as well as cross-platform development need for all popular mobile platforms including iOS, Android, Windows Phone, BlackBerry, etc.
We have highly skilled team having rich experience in test automation for mobile apps, to target high quality product for you with faster time to market, inspite of diversity in platforms and devices.
Our technical skills together with business domain understanding, enables us to design and fit your application just right from enterprise perspective.
When you work with us, you are sure to experience the right blend of quality, analytics and user experience that ensures success and a positive evolution for your product.
We provide following services in enterprise mobility: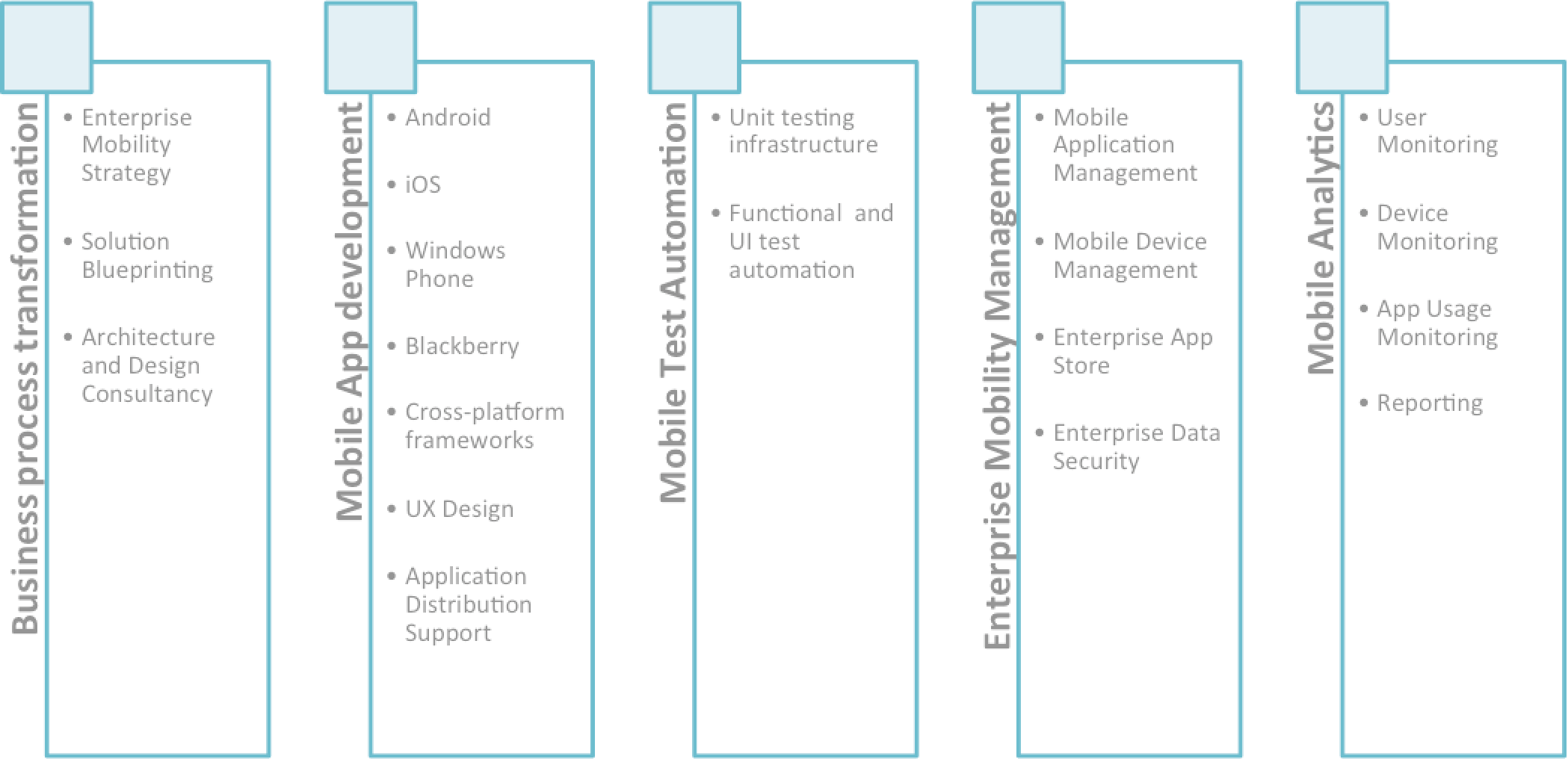 Business process Transformation
To make a valuable mobility strategy is the key to success for any enterprise. SRS Valutech empowers clients to transform their operating model, business functions and business operations by using mobility strategy. To get better business performance, our proven methodologies empower you to better describe the comprehensive mobility strategy. We help companies to customize transformational programs and to establish a mobility centre of excellence.
Mobility strategy and solution
Create mobility business and technology plan
Drive enterprise and enhance customer value
Mobility Business Value Strategy:
We at SRS Valutech, are focused to drive the business value strategy and apply it on high performance execution within the enterprise. Through a valuable strategy, we help companies to transform their business model, business function, business processes and maintain their work on mobile platforms. We provide mobility innovation workshop and capability maturity assessment. Our approaches help clients to perform functions related to mobility enabled selling, services to achieve technology innovation and better performance.
Mobile Technology Execution Strategy
To face current technology challenge, we help our client to develop the technology strategy with our deep knowledge and experience, and execution of strategy resulting in enabling the mobile capability within the enterprise. By using proven methodologies we evaluate the need of clients and establish the best strategy for the company's mobile application, device and make it the mobility centre of excellence
Mobile Application Development
We have highly skilled team having rich experience in mobile app development. We use a wide range of tools, processes to accelerate application delivery. Security is a big issue, but we assure our client for secured access to new mobile apps and we lead in providing secure solutions for mobility in enterprises. We work on mobile app development, to address native as well as cross-platform development need for all popular mobile platforms including iOS, Android, Windows Phone, BlackBerry, etc.
We have expertise in working on apps that require integration with other connected devices like connected medical devices, automotive, etc. Our pre-built components of mobile apps help enterprises to save time and effort, thereby making app development cost-effective, while also ensuring incorporation of best engineering practices and design. We possess capabilities to extend your app functionality to wear platforms like Android Wear (Moto 360, LG Gear, etc.), iOS wear (Apple watch), Peeble, etc.
Mobile Testing and Automation Services
Compliance and compatibility issues are leading day by day as the pervasiveness of mobility is rapidly increasing in the device form factors and platforms. Through our mobile application testing and automation services, we help enterprises in reducing testing cycle time, cost and efforts for their mobile and wear apps.
Testing of devices is necessary to provide quality app to the employees and to the end customer. We provide the following comprehensive offering and entire depth to breadth solution.
Mobile device and application testing
We have expertise in mobile device technology and share a great experience in testing practices. We offer variety of testing on different range of apps, devices and platform which include unit testing, functional testing, performance testing, location based testing, security testing and many more. Our offering provides end to end services in rapidly changing technology and device landscape.
We ensure our client to provide scalable and flexible mobility automation solution with our best knowledge, practices and expertise in leading automation tools (commercial and open source tools). Our automation approach provides a platform and tool agnostic automation solution at "Any Platform, Any Tool and Any Application". By use of automation framework and different tools like Robotium , JMock, Mockito, Robolectric, Perfecto Mobile, etc. we ensure efficient, reliable and cost-effective testing.
Enterprise Mobility Management
Enterprise mobility management is used for controlling, managing and securing devices, apps and data. We serve you to resolve the challenge of maintaining the Bring Your Own Device (BYOD) workforce. SRS Valutech offers the most comprehensive set of tools and backend services for intelligent EMM and also have strategic partnerships with market leading EMM products. We provide specialized services for customizing, integrating and deploying them for your enterprise including IBM Maas 360, VMWare Airwatch, MobileIron and SOTI.
Mobile app management (MAM)
MAM manages your customized app features, security policy, usage and storage. We provide continuous monitoring for the app management, security, troubleshooting and app upgrades, to ensure everything is working effectively and securely. It helps enterprises to manage the lifecycle of a mobile app and deploy dynamic policies on the go.
Mobile device management (MDM)
Mobile Device management helps you secure user devices with a broad range of features. Client can easily enroll, configure, secure, track and update their devices over the air. MDM supports BYOD and self service portal while establishing a platform that scales to support new processes to serve a more mobile workforce and improve efficiency of the enterprises.
Enterprise app store
An enterprise app store is an HTML or native iOS, Android, or Windows private app catalog for mobile workers in the extended enterprise to discover and download corporate-sanctioned and secured mobile apps. An enterprise app store securely distributes app to users in the extended enterprise, including users with BYOD, contracted workers, dealer networks, agencies, part time workers, etc. By deploying corporate software to your enterprises through an app store you can see information technology (IT) department can manage desktop, mobile, cloud and web app software licenses and maintain a level of control over security.
Enterprise data security
With the increase of employee-owned devices in the enterprise, there's also an increasing risk of accidental data leak through apps and services, like email, social media, and the public cloud, which are outside of the enterprise's control. Today, companies need to extend their data infrastructure across business units, partners, suppliers, customers, and a growing mobile workforce. It is important to effectively protect data from the core to the edge of the enterprises.
Mobile Analytics
Analytics services provide an end to end view into the business's entire environment. With analytics tools, you can track app usage, app revenue, etc., and make a whole mobility report. With effective key report you can make data-driven decisions to increase engagement and monetization for your app. Through analytics application, businesses get instant visibility into how their mobile application and devices are being used by end customer and employees.
We provide the most cost-effective and efficient analytics solution services which can drive revenue growth and will increase productivity. We are expert in analysis of existing technology, custom applications, system architecture, and much more. Our deep technical knowledge and skills allow us to define and implement the mobile analytics in proven manner.
We have partnerships with IBM and AWS. With this, we help you achieve market leading analytics solution, while customizing and deploying them as per your enterprise needs. We also have expertise in Localytics, Google Analytics products and provide specialized services for customization and integration of analytics solutions in enterprise solution.